The annual expert meeting of the international network program "Developing the next generation of Shared Society theory and practices" took place virtually due to Covid-19.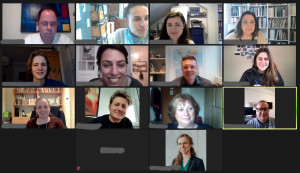 The third Expert School of the international programme "Developing the Next-Generation of Shared Society Theory and Practices" took place from 12 to 15 March 2021. In the four-days meeting, experts exchanged views with a focus on social cohesion and polarisation.
The agenda included inspiring contributions from practice and research, as well as insights into the impact of the current COVID-19 pandemic on the societies of the countries represented. Perspectives from Belgium, Germany, Israel, Northern Ireland and Northern Macedonia were shared and specific ways of dealing with this situation were discussed.